Would it be entirely vain to say I absolutely love these pictures? The lighting today was fabulous. I just wish some of the fog had stayed from earlier. *sigh* So dreamy!
Today, I was told by a new customer that I was basically his coffee goddess. This was before he tasted my coffee. I'm just, you know, that good. 😉 Actually, he was very thankful that we were open before 4am, and also that we have white coffee. You know, I've never really understood the pull of white coffee. I think it smells like peanuts and tastes like… well… watery peanuts. And who wants to drink watery peanut juice? Not me.
Other interesting things about today: one of my customers had the last name "Sitting Dog"; I'm going to paint my room today; this outfit was the third thing I wore… and I'm not going to paint in it, in case you were wondering.
I got this skirt a while ago. It was an impulse buy: I knew that I probably didn't have much to wear it with, but the color and details were too pretty to pass up. So it's been sitting in my closet for about a month, waiting for me to up and wear it.
With this styling and this hair, I feel like a doll. Fun fact: my hair curls MUCH better now that it's been dyed red. Which means I want to curl my hair all the time now, because it actually curls and doesn't fall out as soon as it leaves the curling iron.
Also, I really want my hair to be redder. It is more red in real life than it seems in pictures, but now that I've gone this color, I want it to be even brighter. I may never go back to my  natural color.
Ignore the button popping. This is why I wear camisoles under my cardigans. Who knew button-up sweaters could be so very scandalous?
I think the mushrooms in our back yard look like pancakes.
And now I'm kind of hungry.
Cannot. Resist. Leaves.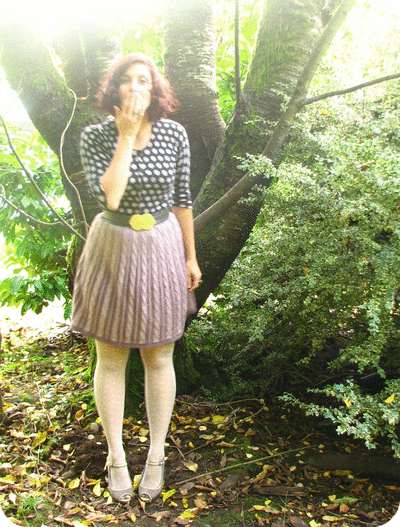 I hope you all have a beautiful Thursday! Happy almost Friday!
And yes, in case you were curious, I AM addicted to making GIFs.