It's story and picture time! Now that y'all know about my man– who we will call Mr. Owl (thanks to Picco for the nickname) for now– I can share my favorite pictures and a few little adventures we've had in the past few weeks. And I can answer all of your questions.
First of all, he's a photographer, amongst other things. So all the really, really good quality pictures… were taken with his camera. But I edited them, and we both had ideas, so really all of our photoshoots are collaborative efforts.
I suppose really I should just start at the beginning, since y'all asked the predictable questions (Is he Irish, where did we meet, where did I find him, does he have single brothers…).
Technically, we met about three years ago at a game night the young adults at my church used to do. I don't really remember much about him from then, probably because he was quiet and I was shy, and I wasn't really focused on finding a boy. But our paths crossed– unbeknownst to us– quite a few times over the years. He played softball with my oldest brother, I went to his church off and on through the years, he took video of a wedding in which I did the bride's makeup… basically, we sort of just ran in the same circles, but distantly enough not to bump into each other.
Then last year in September, I noticed two guys in church– one of whom was wearing bright green pants. (And his brother, who was wearing bright blue pants. And yes, his brother is single. But he's the last one, so act fast.) I have to be honest: I didn't notice Mr. Owl more than that I really liked his style. I didn' t notice how cute he was, and we never even spoke until the Sunday before our first date. Which was two months later.
In my defense, he wouldn't even look at me in church. Because he knew if he looked at me, he'd have to talk to me, and he didn't know what to say. Yes, this is my favorite fact so far. And yes, I will never let him live it down.
About a month later, he added me as a friend on Facebook, saying that his sister (who I know and am friends with) said I had some pictures that he might like, since he's into photography. We talked via Facebook messaging for about a month about everything from our mutual interest in photography, to how he makes short films and I write stories and we should collaborate, to family, to… who knows. Everything. I didn't start liking him until the last three messages, though, because that's when I found out that he loves Lord of the Rings and he likes the Renaissance Faire.
But I had no idea he liked me– see above, not even acknowledging me at church– until he asked for my phone number. It took me four days to respond. In those four days, I had various flurries of thoughts, such as "should I ask why?" and "Maybe he just wants to talk about collaborating with movies/scripts, but then why would he need my phone number?" and "I don't even know. I just don't know. I… don't know."
Finally, after talking to a good friend and also telling my mom about it, I decided to just up and give him my number, not ask why, and let life happen however it wanted to. I gave him my number on a Saturday, and that night my friend, my mom, and I went to a church function wherein I pointed him out to my friend. Her response was "oh! He's cute! He's really cute!"
The next day– Sunday– he came up and introduced himself in person. It was the most awkward introduction ever, since I already knew who he was and yet he came up, said hi, told me who he was (full name included), and shook my hand.
As you can see, I'm much better at keeping a straight face. (not)
And then the next day, he called me. But I wasn't in the room when my phone rang, and when I saw the missed call… I had no idea who it was.
Well, I had my suspicions. My friend (who was staying with me, as she lives in New Mexico) told me to call back. I didn't.
I got a message the next day from Mr. Owl. At the end of it, he said "Oh, and this is my number so you know who's calling your phone."
He called me again two days later, asked if I'd like to meet for coffee, and the rest… is basically history. Neither of us ate or slept much that week, but when the date finally came around, we talked for three hours, saw each other every day that weekend, and in the last six weeks (and three days), there are only five days we haven't seen each other.
And I think I will keep him. 😉
On to the other questions!
From Bethie (who made me burst out laughing, by the way)
How does Mr. Rochester feel about this? How is it possible for someone's eyes to be so blue?! Where did you meet? Is he possessing of Irish roots? Does he like kitties? Will he watch period dramas with you? Does he have any brothers or cousins? Imeanwhat?
1. I don't care, Mr. Owl takes precedence over Mr. Rochester. And besides, Rochester already has a wife. 2. I don't know. But they are. Sigh. 3. Church. And Facebook. And at a coffee place. But basically… church. Did I mention… he's one of the pastor's sons? 4. No, but he's partly Scottish. And he wants to go to Ireland. Which is close enough for me. 5. Yes. 6. … maybe…? 7. Yes, and… maybe…? But his brother is still single. 8. *snicker*
From Margaret –Where did you find him? — and to reassure Linda:
Church! Mostly. Our friendship really started on Facebook, but if I hadn't known about him because I go to his church, I would never have been so friendly. Plus, I'm friends with two of his sisters. And as I said, I noticed him first at church for his style.
From Bellepear: Does he know about/read the blog?
Yes, he knows about it. But he doesn't read it because– according to him– it's more for girls. He does, however, really like my style. So that's good. 😀
And lastly…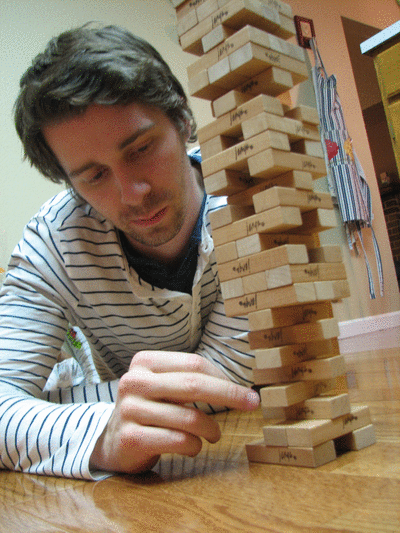 We play a lot of Jenga.
That'll have to be the end of the storytelling right now, because I really need to get dressed and do some cleaning. I  hope you all have a beautiful Monday!