Now that it is officially fall and I can finally get my brain in gear for fall outfits, I thought I might share with you some inspiration that I'm finding from other bloggers, and also a list of garments I need to find for the coming season!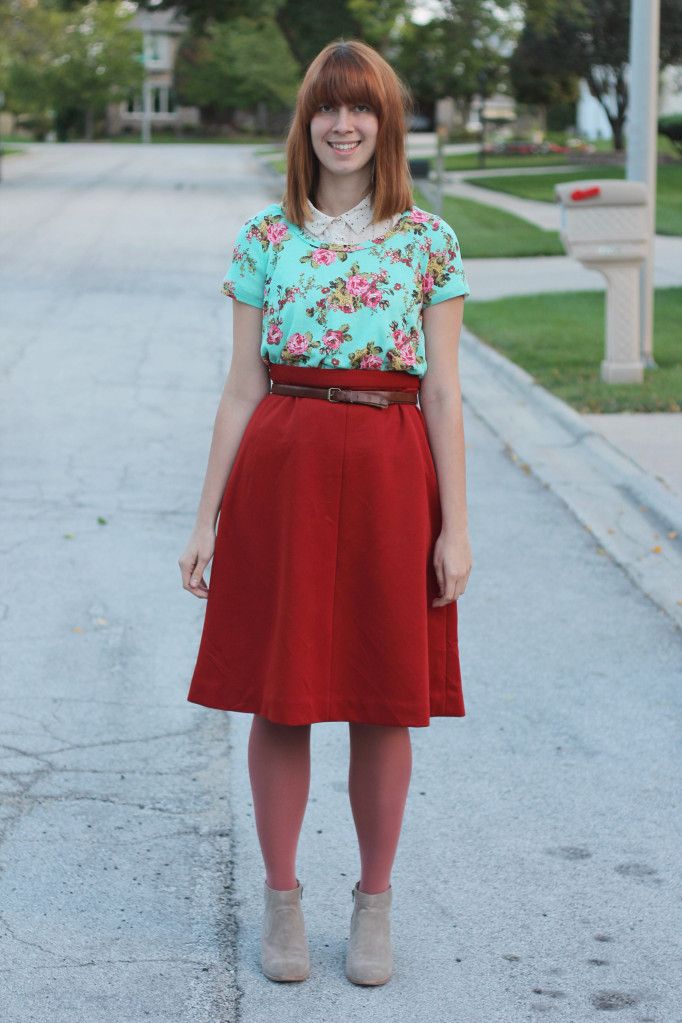 1. A red skirt. I have wanted a red skirt for ages, but Marlen from Messages on a Napkin reminded me how much I absolutely need one. That, and a great mix of blouses I can layer. I don't have enough blouses.
2. As illustrated by Veronika of Girl and Closet, and Teika of Selective Potential… I really, really need a yellow skirt for fall. Seriously. It's an amazing color, and I don't have many good solid colored skirts in my closet. (For real. Out of the 38 skirts I own, only four of them are solid.)
3. A good, workable blazer. (I just found Marlen via her comment on my last post, and I already love her style, by the way.) I have never been a blazer girl, but I think it's something everyone should have– a blazer that goes with everything, has a flattering cut, and works with the style you have. I'm currently trying to become more office-esque (there's no dress code at work, but I think it's more appropriate to look professional than artsy) and 1940's esque, and a good blazer will help in both regards!
4. Animal printed… everything, really. No, not leopard or tiger or zebra print; actual animals printed on clothes.  I'm especially fond of Meanz's cat-print blouse. I have always loved these types of items, and now that its' a trend, I can't WAIT to get my closet full of shirts and dresses and skirts with cats or owls or foxes all over them. (I went and snatched up the last fox-print sweater at my Target the other day. LOVE.)
5. Patterned tights! (click on the images to be taken to their posts) I bought some heart-print tights from Modcloth the other day (my very first Modcloth purchase!) but I'll be saving them to war for my wedding. In the meantime, I plan to fill my tights drawer with all sorts of colors and patterns.
So, what are you hoping to get for your fall wardrobe? What trends are you excited for?
I hope you are all having a lovely Wednesday!
follow me on:
bloglovin | chictopia | facebook | twitter | pinterest
Related
You May Also Like
29 November, 2018
1 December, 2019
1 March, 2018