Now that Thanksgiving is officially over, my husband has given me leave to get all Christmassy up in this place (aka, our house). It's been all over my blog so you're probably well aware, but a week ago I quit my job, leaving us about 1/3 of our income poorer per month. And while we are definitely able to survive on that, it does mean we have a whole lot less to buy extras with. Including gifts. And I love giving gifts. It is one of my ways to express my love, giving people things.
So this year, I'm going to attempt to make as many presents as I can with what I have, and since a few of you requested I put together a list of ideas, I'm sharing my favorite DIY gift ideas here! These are all pretty easy for those of you who have no time, and can be made cheaply (or free, if you're a hoarder like I am) for those of you who, like me, only have a few extra pennies to spare.
1. Cookies (or soup) in a Jar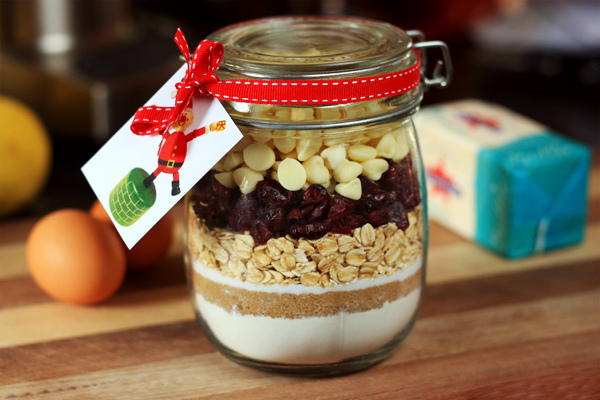 (source)
Time: 30 minutes | Cost: Under $30 for several jars, much less if you already have jars, flour, sugar, etc.
Cookies (or soup) in a jar is one of the easiest and most foolproof things you could DIY for Christmas. It looks pretty, you can make several with the ingredients needed, and who doesn't like free food? Since my mom and I canned pickles this year and last year, we have a ton of jars sitting around waiting to be used, and this would be one super simple, very easy gift to put together. All I need are a few different flavors of chocolate chips, and I'm set!
Recipes: Country Oatmeal Cookies | Butterscotch Chip Cookies | Chocolate Chip Cookies | Gingerbread Cookies | Free Printable Labels + More Jar Recipes
2. Finger Knit Scarves + Hats + Other Things
(source)
Time: 2+ hours, depending on project | Cost: Under $5 unless you've already got yarn, then… free!
I recently learned how to finger-knit, and this may be one of my favorite DIY projects ever. It's easy, you don't need any tools except scissors, and if you've got time (or are sitting watching TV), you can whip up a cute scarf or hat with very minimal effort. It does take longer to do, since it's harder to quit in the middle, but it's well worth the effort. And hey, if your kids need something to keep their busy hands occupied, this is a great craft for them to jump in on!
Instructions: How to Finger Knit | Put Together a Scarf | Make Boot Cuffs | Finger Knit Hat
3. Handmade Pillows
(source)
Time: 30+ minutes, depending on the design | Cost: $10 or less, depending on what supplies you already own and what you want to make.
Pillows are probably the easiest sewing project in existence. Four straight lines? I can do that! Iron-on appliques? Easy-peasy. Stenciled on designs? Done! Plus, the possibilities are endless: you can choose colors, designs, shapes, materials, and make the most personalized gift ever. And if you've already got a plethora of fabrics (or a mom who has a stash), you don't even have to put down any cash to get a thoughtful, pretty, and even useful gift. Or two. Or five. Everyone loves pillows.
If you're ambitious, you can even go with non-square pillows. Like this sheep pillow, or these letter pillows, or these bear pillows. I want to make them all!
Instructions: How to sew a pillow | Ideas
4. Personalized Gift Basket
(source)
Time and cost depend on you!
If you're thrifty rather than crafty, take a trip to the thrift store, the dollar store, and the clearance sections and put together a personalized gift basket for your loved ones! Or, you can craft your own things to put in the basket, including a few projects on this list — create a coffee-lover's paradise with coffee cups, flavored coffee, flavored syrups, biscotti, and other coffee-related things; make a great family-night basket with a thrifted DVD, a few bags of popcorn, dollar-store candy, and some cans of soda; put together a mom's night of relaxation with soft slippers, lotions, bath salts, candles, and maybe some nail polish… I love this idea because again, the possibilities are endless!
And you don't have to spend a ton of money on it, either. I once spent $10 or less on a gift basket for my brother because of thrift store finds and dollar-box candy.
Ideas: Pinterest | Gift Baskets on a Budget | 3 DIY Gift Baskets (with instructions)
5. Handmade Stationery Set
(source)
Time: 30 minutes, depending on project | Cost: Free and up, depending on what you have and what you want to buy.
I have always been a huge stationery lover and collector, and making up some quick stationery as a gift is SO easy. You can use stamps, paint your own designs, cross-stitch, embroider, add lace, sequins, buttons, beads, washi tape… whatever you want to do, really. And the results will be 100% personal.
Instructions: 13 DIY Stationery Ideas
6. Handpainted Plant Pots
(source)
Time: 20 minutes to 1 hour, depending on your paint | Cost: $10 (or less, or more, depending on your supplies and how much you choose to spend!)
Know a plant-lover? Or perhaps someone who would love a cute little pot for jewelry, hairpins, push pins, or other knick-knacks? This is the perfect, easy gift! All it takes is a clay pot (which you can find for under $5 at Home Depot) and some acrylic paint, and you're set! This would also be a great little gift project for those outdoor-loving kids, who want to grow their very own plants. Just add potting soil and seeds, and let them watch it grow!
Instructions/Ideas: Dip-Dyed Paper Pots | Puffy Paint Terra Cotta Pots | Chalkboard Flower Pots | Stenciled Pots
7. Hair bows for girls, or bow ties for boys
(source)
Time: Under 30 minutes | Cost: free and up (haha!) depending on what supplies you already have.
Know a few little girls and little boys? This is the perfect easy craft for you! With a few spare inches of fabric and a rudimentary knowledge of sewing, you can make the cutest personalized hair bows or bow ties for those little ones. Heck, you don't even have to sew it; you can hot-glue these up in no time. And the same method works both ways; all you need that's different is some velcro or a shirt clip for the bow tie.
Instructions/Ideas: How to make a Hairbow | 30 Ideas for Hair Bows | Easy Bow Tie | DIY Baby Bow Ties
8. Handmade flower crowns
(Post)
Time: 30 minutes or less | Cost: $10 (or free, or more, depending on what you choose or have on hand)
Flower crowns have been all the rage for a while now, and they are the perfect pretty accessory for the fashion-lover in all of us. Plus, with several ways to make them, it's easy to find the method that works best for you and whip one out in 30 minutes or less. I find all of my flowers at thrift stores, where you can grab a great bouquet or two for under a dollar.
Instructions/Ideas: DIY Flower Crown | 2 Techniques | Large flower crown
9. DIY Chalkboard
(post)
Time: at least 1 hour | Cost: $20 or less
This was one of my favorite DIY projects I've ever done. We found a picture frame at the thrift store, sprayed on some chalkboard paint, and it was done. So easy, pretty cheap, and you've got leftover chalkboard paint for other projects (like chalkboard pots). Plus, chalkboards are such a great gift for anyone; they make perfect menu boards, reminder spots, grocery list boards, toys for kids (perhaps with smooth wood instead of glass as the chalkboard back)… the list is endless.
Instructions/Ideas: DIY Chalkboard | DIY Wooden Chalkboard
10. Personalized coffee mugs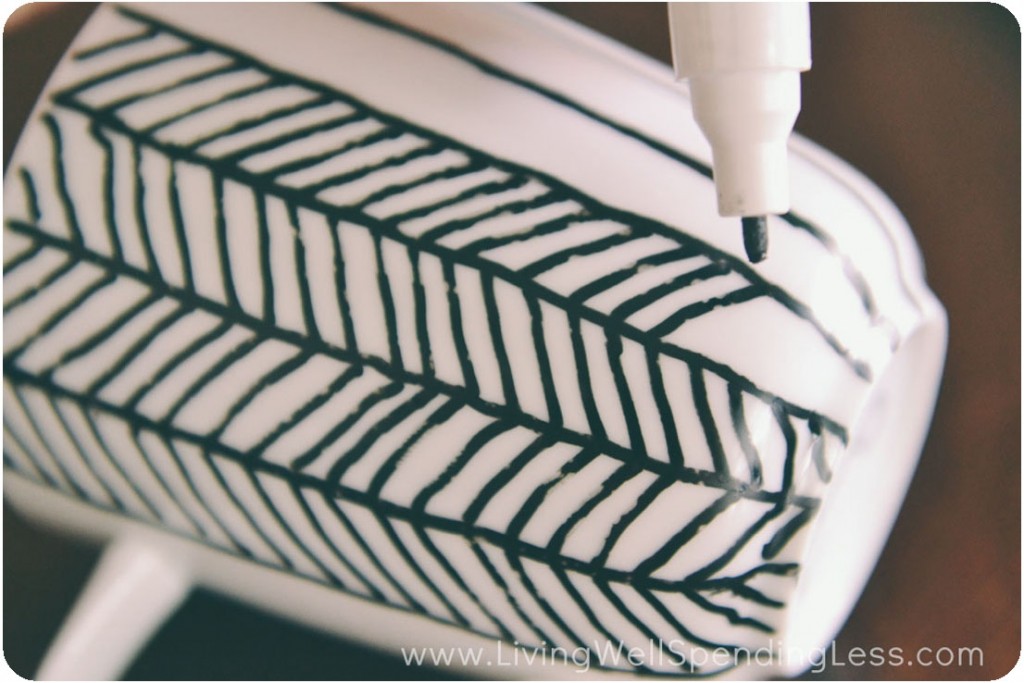 (source)
Time: 1 hour or less | Cost: $20 or less
As a coffee lover in a family full of coffee lovers, this is one of my favorite ideas! I kind of collect coffee mugs, and my husband and I love to visit a local coffee shop where you can also paint pottery. My favorite is creating coffee mugs for each other. But, making Sharpie mugs is much cheaper, and you can do it at home! So if you have a coffee (or tea) lover in your life, grab your markers and get decorating!
Instructions/Ideas: How To Make a Sharpie Mug | 21 Tips for DIY Sharpie Mugs | Pinterest Ideas
Bonus: Handmade Wrapping Paper
Now that you've handmade all those gifts, why not create your own personalized wrapping paper as well? Here are 24 adorable ways to DIY some wrapping!
Well, that's it! Those are my top ten favorite DIY ideas for this Christmas. I've already whipped up a few of these for family members, and I'm hoping to try them all as we get closer to Christmas and birthdays!
What are your favorite handmade gift ideas?

Bloglovin|Chictopia|Facebook|Twitter|Pinterest|Instagram|Fiction Press