I am constantly surprised by how many pregnant friends or bloggers I see who feel they are completely restricted to only ever buying maternity clothes while they're pregnant. Well, I'm here to help you realize: you can totally snag some awesome vintage clothes even while you're pregnant! You just have to know what to look for!
And to prove it, I've chosen to show you items all from one vintage shop. Height of Vintage has so many options a pregnant girl can choose from, plus it's my kind of shop because at least 75% of it is $50 or less. So let's get to it!
1. Choose garments with stretch and/or a full skirt. Remember that your waistline will probably sit higher, and you can always cover up anything funky with a snazzy belt.
2. Or, go the obvious tent-dress way, but put a belt on it!
3. Go for the outerwear. Anything that unbuttons = no issues wearing it over your belly. Plus, while you're pregnant, you're likely not going to want excess layers for longer than it takes to jaunt from the car to a warm place!
4. Tie it up. Tie shirts up over dresses or high waisted skirts, and add a whole new adorable look to your outfit. No belt needed.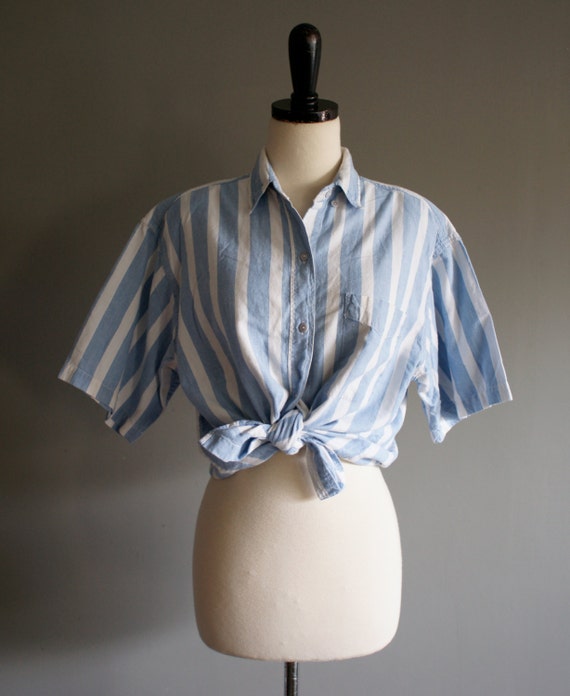 (Here)
5. And don't forget: accessorize! You can wear these through any and all stages of life, no matter what size your belly is. Plus, great accessories can take that jeans-and-tee outfit to a whole new level.
So good luck, my beautiful pregnant friends! With a keen eye and a few tips in mind, you're off to a good start cultivating a pregnancy-friendly vintage wardrobe!
Happy Saturday!
bloglovin | chictopia | facebook | twitter | pinterest | Instagram | Fiction Press